Move Well Chiropractic in Newton :: About Us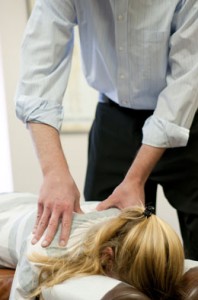 Move Well Chiropractic has been providing chiropractic care to the residents of Newton, MA and the surrounding towns since 1998
It is important to us that all of our patients understand what it is we are trying to accomplish, and to fully understand the reasons behind our methods. We know well informed patients are the ones who achieve the greatest results. There are two phases of care which our patients have the choice to participate in:
1. Relief Care for Newton
The majority of our first time patients come to our office for one reason initially: relief. They have suffered some sort of injury which is beginning to interfere with their lives and affect it negatively. Our first goal always is to provide relief as quickly as possible. After your first few visits there are several things that we make sure you are aware of and understand:
Why you are in the pain/situation you are in, (i.e. what is causing it)
How chiropractic care can help you
Know the care plan and understand how long it will take to get there
Provide you with guidance and explain how you can participate in your recovery (ice/heat, stretches, corrective exercises, ergonomic changes, etc.)
2. Wellness Care for Newton
After you have achieved relief from your pain and symptoms we will discuss how you can best avoid these things from interfering in your life again. By incorporating simple therapeutic exercises into our treatment you will be better prepared to deal with the stresses of everyday life. This is where you begin to develop understanding of how you can care for yourself. Continuing this is essential for long term relief. We want our patients to be pro-active about their health, and ultimately to become non-dependent on us. By giving you the tools and understanding to take care of yourself you are better able to maintain your health.
You're the Boss
It's your body, your health and your future! Our job is to offer you the finest chiropractic care possible, and it's up to you to decide how much of it you want. YOU get to choose how far to take your chiropractic care.
For chiropractic care there is no referral required. We accept most major insurances including Blue Cross, Harvard Pilgrim, Tufts,United, Cigna, Aetna, Neighborhood Health, and more. To find out what your insurance covers please call our office today. 617-641-9999
Move Well Chiropractic Mission Statement
At Move Well Chiropractic our overall philosophy is that we will not only provide relief for your discomfort, but coach you in prevention and help you obtain a better state of overall wellness.
Ready to make an appointment? Give our Newton chiropractic office a call today.